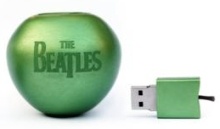 EMI
and
Apple Corp.
(not to be confused with Steve Jobs' Apple) have jointly the announced the release of a limited edition
Beatles Stereo USB Apple
which will be available worldwide.
The 30,000 USB flash drives will include the "critically acclaimed re-mastered audio for The Beatlesí 14 stereo titles, as well as all of the re-mastered CDsí visual
elements
, including 13 mini-documentary films about the studio albums, replicated original UK album art, rare photos and expanded liner notes."
The 16GB drives will include a full Flash user interface and the tracks will be available in
FLAC
44.1 Khz 24-bit and 320 Kbps MP3s.
The Apples go on sale December 7th and will cost 200 GPB (about $330 USD).
You can check the full track listing here:
Beatles USB Stereo Apples