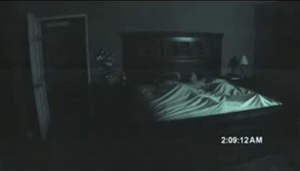 Paramount Home Entertainment
has started a new website which will allow fans of the film
Paranormal Activity
to have their names in the credits of the film when it is released on
DVD
and
Blu-ray
next year.
The site,
ParanormalActivityProject.com
is open until November 9th at midnight and anyone who registers will have their name shown at the end of the credits of the film.
"The success of Paranormal Activity would not have been possible without the million-plus fans who went to the ParanormalMovie.com official Web site and demanded the movie in their home town,"
adds Amy Powell, Paramount senior VP of interactive marketing.
"They demanded the movie, and they got it. So now we are giving them credit where credit is due."
The movie, which cost $13,500 to make and has grossed $87.9 million domestically,
is by far the most profitable movie (percentage-wise) of all time.
Paramount expects the extended credits to add up to 20 minutes to the film.