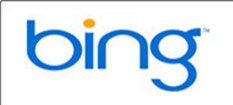 Microsoft's
latest search engine incarnation
Bing
continues to gain search engine market share, according to October
comScore
numbers.
From September, the search engine gained over five percent, jumping from 9.4 share to 9.9 percent, mainly at the expense of
Yahoo
, which fell from 18.8 percent to 18 percent.
Clear leader
Google
gained 1 percent to move from 64.9 percent share to 65.4.
Minor players
Ask
and
AOL
remained unchanged at 3.9 percent and 2.9 percent, respectively.
Bing gained for the fifth straight month, backed by a $100-million dollar ad campaign and promotion by
Microsoft
.