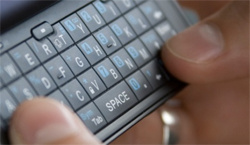 According to a new study, it appears that teenagers don't necessarily care if it is illegal to text while driving, and will still not care even if it is made into federal law.
Texting in general is up 1000 percent since 2006 and Americans will send an estimated 1 trillion messages in 2009.
Officers
say it is harder to cite
drivers
while texting, as compared to those speaking on their phone.
For example, the California Highway Patrol says they have handed out 163,000 tickets to drivers using phones to make phone calls since May 2008 but only 1400 texting citations.

"The handheld cell phone is relatively easy for us to spot, we can see when somebody has their phone up to their ear,"
adds CHP spokeswoman Fran Clader.
"But with the texting it's a little bit more of a challenge to catch them in the act, because we have to see it and if they are holding it down in their lap it's going to be harder for us to see."
Currently, 19 states have banned texting while driving while 9 other states prohibit it for drivers under the age of 21.
One high school student, 17 year-old Anna Hauer, says she doesn't expect many people to stop texting even if the law goes federal.
"By the time they pull you over, the chances are you are going to be done with your text anyway so they can't exactly prove that you were texting,"
she added. Of course the police can check the very obvious timestamps on the texts, but that would mean the officers would need to be able to secure the phone, which is likely an invasion of privacy.