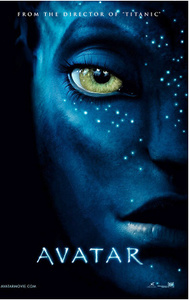 The James Cameron epic
Avatar
has continued to
crush
the competition at the Box Office and in the record books, becoming the second-highest worldwide release ever, just one month after release.
Globally, the film earned $191.5 million this weekend, for a total of $1.3 billion. The figure surpasses "The Lord of the Rings: The Return of the King," which made slightly over $1.2 billion during its run. Avatar is now only behind Titanic, Cameron's last epic which collected $1.84 billion at the Box Office in 1998.

In America, Avatar has hit $430 million in sales, good for 7th all-time. Titanic is the leader there as well, at $601 million.

Internationally, the film is a sensation as well, with $906 million in sales. France is the largest market, at $100 million, followed by Germany at $73 million. The film set a Chinese launch week record as well with $40.2 million last week.

The film cost $230 million to produce and had an estimated marketing budget of $130 million.

Avatar will also undoubtedly be the best selling Blu-ray and DVD of all-time when it is released sometime later this year.