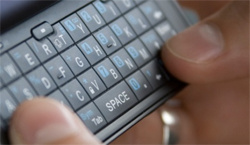 American texters have helped raise $11 million for Haitian earthquake relief, either by donating $5 or $10 to different funds specifically created to help those in need.
The Mobile Giving Fund says the figure is a record for a single cause, and that the company was seeing up to 10,000 texts per second.

Users can send $5 to to the Yele Haiti Earthquake Fund by texting the term "yele" to 501501. Other organizations, such as the American Red Cross have similar situations but users will have to look up the numbers.

The Red Cross has received $9 million, and the Yele fund about $2 million.

Carriers T-Mobile, AT&T, Sprint and Verizon have waived all texting fees if you want to donate.