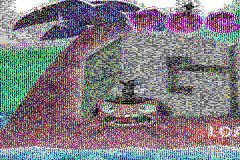 The popular
Pocket God
application has hit a milestone today, the first to 2 million downloads.
The game costs $0.99, and has updated 30 times since its release, all for free.
Bolt
Creative
, the company behind the game, says its best sales day was 53,000 and that during the holiday season the game was downloaded over 100,000 per week.

"We couldn't be happier with the turnout we've seen at the island,"
added Bolt's CEO Dave Castelnuovo.
"The community has been absolutely incredible embracing this game. From the thousands of YouTube videos to the homemade Halloween costumes to the valuable user feedback we've received, we can't thank our community enough for our success."