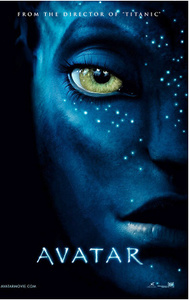 After just five weeks in theaters, the epic blockbuster
Avatar
is set to pass
Titanic
this week as the highest selling movie of all-time (not adjusted for ticket price inflation.)
On Sunday, the film became the highest selling movie overseas, beating out Titanic's former record of $1.242 billion in sales. Individually, the movie is the highest grossing of all-time already in China, Spain, Russia, Hong Kong and Chile.
Avatar currently sits at $552.8 million domestic and $1.808 billion worldwide cumulative, on
pace
to break Titanic's 13-year-old records of $600.8 million and $1.843 billion, respectively.
The film is also the best selling IMAX film of all time, with $134 million in sales at an average of $15 per ticket.
Gone With the Wind
, when adjusted for inflation remains the highest grossing film of all time, with an estimated $3 billion in sales.