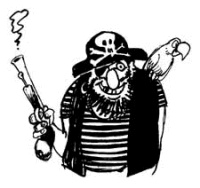 More than 150 people have contacted consumer publication
Which? Computing
claiming to have been wrongly targeted with written warnings for Internet piracy activity.
ACS:Law
has sent thousands of letters to users in the UK accusing them of illegally sharing copyrighted content on the Internet, and providing a chance to pay about £250 to settle the case.
Which? claims to have been contacted by a number of people who say they have no knowledge of the alleged offense. One such case involves a 78 year old man who was accused of downloading and sharing pornography.
"He doesn't even know what file-sharing or BitTorrent is so has certainly not done this himself or given anyone else permission to use his computer to do such a thing,"
Which? was
told in a complaint
.
The consumer advocate is now concerned that users might be accused wrongly.
"Innocent consumers are being threatened with legal action for copyright infringements they not only haven't committed, but wouldn't know how to commit,"
said
Matt Bath
, technology editor of Which?.
"Many will be frightened into paying up rather than facing the stress of a court battle."
It has encouraged people who have been wrongly accused of piracy to
"rigorously deny it and, if possible, provide physical evidence of where they were when the infringement took place"
. ACS:Law is convinced that its methods provide accurate results however, and promises that more will be sent out soon.