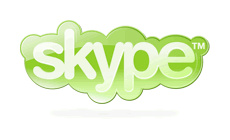 Skype
and
Verizon Wireless
have officially announced a partnership today that will bring the VoIP service to BlackBerry and Android phones starting next month.
The VoIP service will be available over Wi-Fi and 3G and will allow for international calls at rates that are far cheaper then currently charged by carriers.
Skype will come pre-installed on the "BlackBerry Storm 9530, Storm2 9550, Curve 8330, Curve 8530, 8830 World Edition and Tour 9630 smartphones, as well as DROID by
Motorola
, DROID ERIS by
HTC
and Motorola DEVOUR," starting in March.
"More and more, what's happening is that your mobile phones are really just personal computers in your pocket,"
adds Skype CEO Josh Silverman, via
RWW
.
"And people want to use those computers ... to communicate."

As an example of how cheap will benefit users, per minute calling to France using Skype costs $.024 while the same per minute rate for Verizon is $.17. That's right, 8 times more expensive. Of course, you will need to purchase Skype's $3.99-a-month international call subscription but the savings are noticeable if you spend more than even 20 minutes on the phone per month.