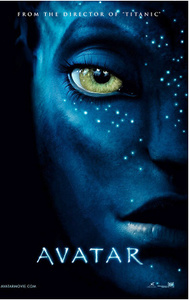 Director James Cameron has announced that his epic blockbuster hit
Avatar
will be released on
DVD
and
Blu-ray
in April, although the first version released will not be in 3D.
The original Cameron quote is as follows: "It's all right on schedule. We'll do the Blu-ray and the standard def DVD April 22nd, that's our plan as of right now, and that'll be pretty much bare bones. And then we'll do a value-added DVD and a 3-D Blu-ray in I think November sometime."

Fox however, has stated that the 3D version is not coming out in November. Says the spokesperson: "3-D is in the conceptual stage and 'Avatar' will not be out on 3-D Blu-ray in November."

'Avatar,' released in December, has quickly become the highest-grossing film of all-time (not adjusted for ticket inflation), and is the highest-grossing film in U.S., Chinese, Russian, Spanish, U.K history.