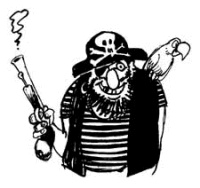 A man arrested for recording 2008's mega-hit movie The Dark Knight has been sentenced to 2 years in prison and ordered to pay nearly $25,000 in restitution.
The sentence isn't exactly surprising. Recording movies in a theater has been a federal felony in the US since 2005, when the Family Entertainment and Copyright Act was passed.
What's much more interesting in this case is the MPAA's official statement on the sentence (
PDF
). They're calling it
"an appropriate sentence for a very serious crime."
And the reason given? It's because
"The theft of films by camcording is a serious threat to the health of the motion picture industry."
Perhaps this case isn't the best one for making those sorts of arguments. Despite widespread availability of the movie through P2P networks, The Dark Knight was the top grossing movie in the US for all of 2008 by a wide margin.
With more than half a billion dollars in box office receipts, it beat the number two movie, Iron Man, by more than $200 million according to the MPAA's own figures (
PDF
). In fact despite slightly lower theater attendance for the year, The Dark Knight eventually became
the fifth highest grossing movie
of all time.
It was also the
top selling movie on iTunes for 2008
, even though it hadn't been released yet and could only be pre-ordered.
That's in addition to smashing records for Blu-ray sales. There were
600,000 Blu-ray copies
of The Dark Knight sold the day of its release, and
nearly 2 million
in the first week.
Is the MPAA really arguing that it would have made more money if low quality copies hadn't been available on the internet? Or are they just sticking to their ludicrous claim of
stopping unauthorized copies
from reaching the internet in the first place?
It's hard to see what harm was done that justifies taking away two years of a man's life.