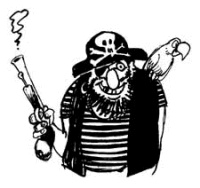 A group of TV and music industry personalities have written a letter to members of parliament in the UK urging them to vote in favor of anti-piracy measures outlined in the
Digital Economy Bill
. Signatories include
Simon Cowell
, author
Sir Terry Pratchett
,
Tim Bevan
,
Stephen Garrett
and
Paul Greengrass
. Bevan is co-chairman of
Working Title Films
, Garrett is a leading TV producer and Greengrass is director of movies such as
United 93
and two
Bourne
titles.
One of the clauses in the Digital Economy Bill would punish file sharers by cutting their access to the Internet. Internet Service Providers (ISP) fiercely oppose the plan, saying that it is not their job to police the Internet or spy on their customers.
"Britain is admired for its creativity and its sense of fair play,"
the letter to MPs reads
, adding that the country's artists
"contribute more than 7% to the UK economy".
"The digital economy bill.... will ensure that British creators, entertainment companies, and the 1.8 million people who work in and around the cultural sector are respected and rewarded in the future as they have been in the past,"
it states.
"Digital entertainment services are really beginning to take off, but for these new business models to develop, it is critical that more is done to prevent the illegal services providing easy access to free content."