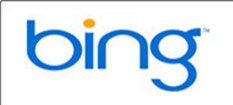 Motorola
and
Microsoft
have announced a new deal today that will make
Bing
search and maps the default for the smartphone maker's
Android
-based phones.
The phones will now come with a search widget pre-loaded.

The company signed a similar deal with Baidu last week, to make Baidu the default Web search engine for Android phones sold in China.

The moves come as Google continues its dispute with China over censorship, a fight that has yet to be resolved, and one in which Google threatened to pull its search engine service from the country entirely.