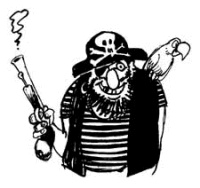 Rabid Neurosis (RNS)
, the once popular music release group was taken down last year by authorities working on tips from the
RIAA
.
A few of the most prominent members were arrested and charged with conspiracy to commit criminal copyright infringement.

This week, Matthew Chow of RNS has been found not guilty by a jury. Additionally, Adil Cassim of the group has been found not guilty as well.

"I am relieved by the jury's verdict and I am grateful to my attorney for his hard work," says Chow. Adds his lawyer: "We encountered some extremely complex factual and legal issues in this case. The jury was very attentive during the trial. Their verdict was just."

The three other RNS members that were charged had already plead guilty and gave testimony for the prosecution.

Chow and Cassim were facing up to five years in prison and a $250,000 USD fine.