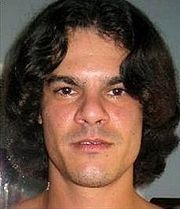 Albert Gonzalez
, the 28 year-old hacker
convicted of stealing and reselling over 170 million credit and ATM card numbers
, was being paid $75,000 by the U.S.
Secret Service
to work undercover informing on other credit card thieves before he got arrested.
The new revelation comes from Stephen Watt, Gonzalez's best friend and convicted accomplice. Watt was convicted of creating the sniffer program that Gonzalez used to hack into the corporate systems.

The Secret Service would not comment on the pay or identity of informants.

Former federal prosecutor Mark Rasch adds: "It's a significant amount of money to pay an informant but it's not an outrageous amount to pay if the guy was working full time and delivering good results. It's probably the only thing he was doing -- other than hacking into TJX and making millions of dollars."

For pleading guilty to identity theft, wire fraud, computer fraud and conspiracy, Gonzalez is expected to receive over 20 years in prison when he is sentenced later this week.

If true, the $75,000-a-year payout would be a new high for computer crime informants with most other high profile informants saying they got paid $200-350 per week.