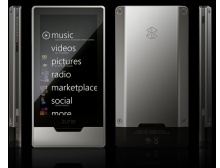 Microsoft
has announced today that they will be releasing a 64GB model of the
Zune HD
media device, double the largest capacity of currently available units.
The device will be available in Platinum, Black, Blue, Red, Green, Purple and Magenta when it goes on sale on April 12th.
As an added bonus, the company is slashing the price of the 32GB and 16GB models, dropping the MSRP to $270 and $200, a $20 cut.
The Zune
HD
was recently in the headlines when Microsoft
announced that the much-anticipated v4.5 firmware was "coming soon,"
bringing with it SmartDJ and native
Xvid
support.