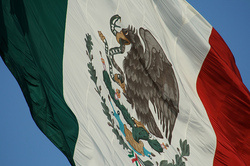 The Mexican government, in an effort to fight crime, has been urging residents to register their mobile phones and identities, however it appears that over 30 million line still have not and those will likely be shut down in the coming weeks.
The law was passed in 2009 "to stop criminals from using cellphones for extortion and to negotiate ransoms in kidnappings," says
Reuters
.
Critics of the law have called it ineffective, as criminals will now be more likely to pay off poor citizens to register the phones under their names.
America Movil
, which controls 70 percent of the Mexican market, will lose about $10 million USD in revenue daily if those 30 million unregisterd lines are shutdown. The company has been trying to get an extension on the deadline for registering.