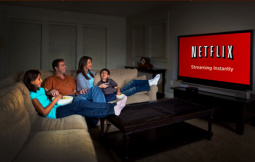 The free
Netflix
streaming
discs for the
Wii
console is now shipping for all users that have asked to receive one, two weeks or so after a lucky few got their discs in the mail.
Says the Netflix blog:

"Jessie Becker here from Marketing and we're thrilled to let you know that we are now shipping instant streaming discs for the Wii to ALL members who want one today! If you didn't reserve a disc already, click here and we will ship you an instant streaming disc so you can instantly watch TV episodes and movies streamed from Netflix via your Wii console. All you need is a Netflix unlimited plan starting at $8.99 a month, a Wii console and a broadband Internet connection. What is the first movie you are going to instantly watch via Wii?"

If anyone has tried the service, feel free to comment on the quality in the comments section.