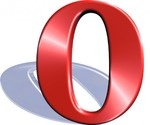 Opera
has a right to be very happy with the immediate results of its browser software for the iPhone becoming available. After being approved by
Apple Inc.
for the iPhone, the Opera browser went on to be downloaded over one million times by iPhone users on its first day of availability.
Apple's approval of the Opera browser for iPhone on April 13 opened a new market that Apple had safely guarded up until this point.
"Apple said 'Yes', and iPhone users around the world said, 'Yes, please',"
the Norwegian firm said
in a statement.
Opera's browsers claims to have some advantages over Apple's own loaded browser. For one thing, it claims it can deliver downloads six time faster than Apple's own browser, and that it could cut data traffic by up to 90 percent, an area where the iPhone has come to attention.
Some mobile phone networks have experienced problems from the heavy data traffic demands from iPhone users.