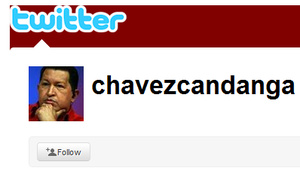 Venezuelan president
Hugo Chavez
, known globally for calling ex-President George Bush a "devil" among other slights has set up a
Twitter
account and has quickly amassed 120,000 followers.
The president even had 12,000 followers before his first Tweet, which came right before midnight on April 27th.
Venezuela is said to have 200,000 "active" Twitter users and it seems that a good portion have signed up to follow their elected leader.
Chavez's first Tweet says: "Epa que tal? Aparecí como lo dije: a la medianoche. Pa Brasil me voy. Y muy contento a trabajar por Venezuela. Venceremos!!" Roughly translated that says "What's up? Came as promised, at midnight. Headed to Brazil now. I'm very happy to work for Venezuela. We will win!!"
If you want to check out some Chavez tweets, head here:
http://twitter.com/chavezcandanga