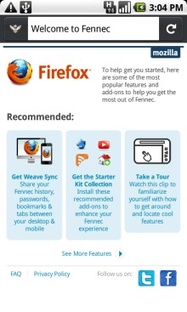 Mozilla
has finally released the "pre-alpha" of the
Fennec
browser today for
Android
devices, bringing an early version of mobile Firefox to testers.
Says Mozilla developer Vladimir Vukićević: The release is "usable enough that we wanted to get some feedback on it."
The developer is fast to warn that the release is very buggy and will give Android users a lot of "
force
close" notifications, with some of the bugs even crashing the phone. The browser may not even work on phones that aren't the
Droid
or
Nexus One
.
The new release does have some notable features including "Weave" support, allowing for bookmark syncing from your desktop version of Firefox.
You can get it here but don't expect a fun-filled ride:
http://bit.ly/fennec-android