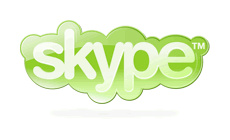 Skype
has announced today that it has started new subscription plans that will allow for cheaper calls to the United States from over 170 countries, with plans starting as low as $1.09 per month.
The expected most popular package is the one that includes unlimited calls to U.S. and Canadian mobile and landlines which costs $2.95 per month. U.S. buyers can get unlimited calls to landlines in 39 other countries for $6 a month. The most expensive package is $12.95 per month and gets you unlimited calls to 40 countries including the U.S.
To get the cheap $1.09 a month plans, users have to select packages that allow calls to only one country. Packages to allow calls to certain regions, like "Western Europe," are also available.
Subscriptions can be purchased monthly, for three months, or for a year, with automatic renewals.
All subscriptions come with voicemail and call forwarding and can be purchased with credit cards, PayPal or bank transfers.
Although the packages say "unlimited," there are some restrictions, as Skype allows only 10,000 minutes per month, or a maximum of six hours per day.
You can view the countries and the restrictions here:
http://www.skype.com/legal/terms/fair_usage/