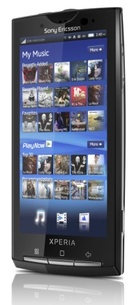 The high end smartphone
Xperia X10
by
Sony Ericsson
, which disappointed would-be buyers when it launched with the outdated
Android
firmware
version 1.6 will finally get Android 2.1 in the Q4 2010, says the mobile phone maker.
While this may sound like good news, Android 2.2 (Froyo) should already be readily available by then, so the X10 will remain outdated.
Coming with 2.1 for the X10 are "
HD
video recording, Wireless home connectivity via DLNA and improvements to signature applications Timescape and Mediascape to make them even smarter and richer."
Unfortunately, there was no mention of multi-touch in the update.
Additionally,
the company says
the Xperia X10 mini and Xperia X10 mini pro will get the update to 2.1 at the same time, sometime after October.