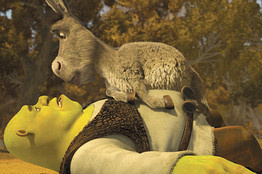 Four popular movie theaters in New York City have announced the ticket prices for the upcoming
Shrek Forever After
and for the first time ever, IMAX 3D prices have reached the $20 threshold.
The theaters are: AMC Kips Bay, AMC Loews 34th street, AMC Loews Lincoln Square, and the AMC Empire 42nd street.
Says
media analyst Richard Greenfield of the move:
"With the state of the economy remaining questionable, we worry pricing is simply moving up too quickly. The danger is scaring consumers away from the movie theaters."
The new price hike follows a recent round of price increases in March, where theaters in NYC raised IMAX and 3D prices as much as 25 percent. At the time, AMC 34th charged $19.50 for the IMAX 3D showing of "How to Train Your Dragon."
While the price may scare away a number of consumers, AMC seems to think it is worth the risk, given the recent string of blockbuster successes in IMAX 3D showings, including 'Avatar,' 'Dragon' and 'Alice in Wonderland.'
Box office revenue is up 6 percent year-on-year, mainly due to increased price tickets.