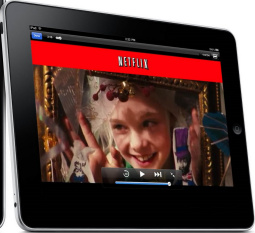 Apple
CEO
Steve Jobs
arrived at
WWDC 2010
in San Francisco today to a standing ovation from a typically large crowd. The first thing Jobs touted was the success of the company's
iPad
tablet. So far, over 8,500 native iPad applications are available and iPad owners have downloaded over 35 million so far. Each iPad has an average of 17 apps.
The iPad has proven successful in the ebooks area too, with 5 million books downloaded in the first 65 days from
iBookstore
. Jobs said that Apple now has a 22 percent market share of the eBooks business. A new iBooks app also will allow the viewing of
PDF
documents with notes and bookmark abilities.
Onto the
App Store
, we learned that 15,000 apps are submitted every week, with 95 percent being approved within 7 days. The figure includes updates to existing applications. Apps that make false promises, use private APIs or have stability problems account for the majority of all App rejections.
For
Netflix
users, a Netflix app for the iPhone was demo'd and will be available this summer. The app, naturally, supports
streaming
movies to the iPhone (any video available through
Netflix Watch Instantly
).
Zynga
CEO
Mark Pincus
revealed that the popular
FarmVille
game will be coming to the iPhone later this month. Touting over 70 million active monthly users, Zynga said players will even be able to purchase iPhone-exclusive items, such as a Snow Leopard.
Activision confirmed that a
Guitar Hero
application will be available for iPhone. It features some new tapping and strumming mechanics compared to other platforms to suit the iPhone control possibilities. The app will be available starting today.
Roughly 225,000 mobile apps are available, with over 5 billion downloads, according to Apple. The company has paid out over $1 billion in revenue to developers.