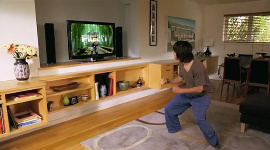 Microsoft
has said they expect to sell "at least" 5 million Project Natal systems by the end of year, a large number for the device which has not even gotten its official name yet.
The expectations come from two "insider sources" cited by the
WSJ
.
The insiders would not provide the exact launch date (which has been rumored for late October) but did note that the pricing model was "aggressive."
Asian manufacturers
Foxconn
and
Flextronics
are also rumored to start shipping the device in August, giving more fuel to the rumor that the system will launch in October.
Earlier today, a new study by
OTX GamePlan
found that
videogame consumers have little interest
in Microsft and Sony's upcoming motion control systems, with under 10 percent willing to purchase Project Natal or
Sony's
rival
PlayStation Move.