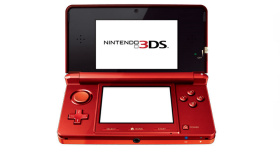 Nintendo
showed off its anticipated
3DS
handheld console at its
E3 Press Conference
today. Identified by
Reggie Fils-Aime
- President and chief operating officer of
Nintendo of America
- as probably one of the best features of 3DS:
no glasses required
, as he doubted gaming on big screen TVs while glasses are still required to get the effect.
"It's the glasses,"
he said, with a certain disgust in his tone, also talking about the cost of 3D now. Nintendo then gave the audience a history lesson of
"3D"
before a prolonged unveiling of the Nintendo 3DS itself by Nintendo President and CEO,
Satoru Iwata
.
He first drew attention to the 3.5-inch
widescreen
on top, which will show the 3D content and then the slider on the side of the handheld to control the depth of the 3D effect. The bottom screen is only for touch, as Nintendo found that smudges on the screen from touching ruined the 3D effect easily.
Iwata talked about improved graphics capabilities for the 3DS, which he expected would cause excitement among developers and then revealed added gyro and motion sensors in the system.
The handheld comes equipped with not one, but two cameras making it possible for the user to snap and view photos in 3D, which got a great response from attendees. The 3DS is capable of playing 3D movies, and while Nintendo didn't give any
"specific details"
(his words), logos of
Disney
,
Dreamworks
and
Warner Bros.
movie studios were shown on screen.
Kid Icarus: Uprising
was then unveiled as a game designed
"specifically for the 3DS,"
as a result of
Project Sora
.
"We felt such a project deserved to feature a character already familiar to many of you,"
Iwata said before the trailer was shown. Iwata added that with the 3D effect in the game, it is easier to just distance between players and objects, while giving a better feel of height, width and depth.
The 3DS console is capable of finding WiFi networks automatically, connecting and downloading new stages, quests, and rankings automatically. There is no monthly fee or anything for that.
Iwata then spoke of past hesitance to Nintendo hardware innovation and spoke of Nintendo having to
"show the way"
with first party software titles. While saying he expected, this time, the biggest third party launch support it has ever received, he teased work going on to develop
Nintendogs
for 3DS, as well as a game that features cats.
Before Iwata went off stage, a slurry of titles were announced to become available for 3DS, including Professor Layton 3D, Assassin's Creed, Batman, Resident Evil, Saints Row, DJ Hero, Kingdom Hearts, Ridge Racer and Metal Gear Solid. Iwata then left the stage and a video of game developers praising the 3DS was run.
Since Nintendo cannot show the 3D effect on screen, the company ran a video where Iwata is dragged into the 3DS by Mario, then
Shigeru Miyamoto
is sucked in when he picks it up after hearing a dog barking and later, Fils-Aime picks it up and laughs as he watches both Iwata and Miyamoto run for their lives fleeing
Bowser
inside the 3DS. Too bad for Fils-Aime, Bowser pops up out of the DS and breathes fires on him, ending the video.
Want to know the prices and launch date? So do we, unfortunately. Hopefully we all find out soon. Some pictures of the Nintendo 3DS handheld are shown in thumbs below, just click on enlarge.