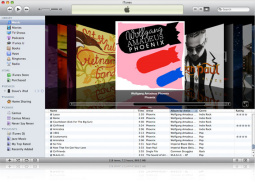 Apple Inc.
has pushed out an updated version of its popular
iTunes
multimedia software ahead of the
iPhone 4
launch next week. Top of the list of changes is compatibility with
iOS 4
and syncing with iPhone 4. It also introduces book syncing and reading with an iPhone or iPod Touch running
iBooks 1.1
.
iTunes 9.2 also supports organizing and syncing PDF documents as books and supports the new
"Folders"
feature of iOS 4 that lets users organize their applications into groups. The update version also promises some improvements such as much faster backups while syncing with an iPhone or iPod touch running iOS 4, and quicker display of album artwork in the iTunes library.
Changes between iTunes v9.1.1 and iTunes v9.2

Sync with iPhone 4 to enjoy your favorite music, movies, TV shows, books and more on-the-go
Sync and read books with iPhone or iPod touch with iOS 4 and iBooks 1.1
Organize and sync PDF documents as books. Read PDFs with iBooks 1.1 on iPad and any iPhone or iPod touch with iOS 4
Organize your apps on your iOS 4 home screens into folders using iTunes
Faster back-ups while syncing an iPhone or iPod touch with iOS 4
Album artwork improvements make artwork appear more quickly when exploring your library
Download iTunes 9.2 for Windows from:
http://www.afterdawn.com/software/audio_video/media_management/itunes.cfm
Download iTunes 9.2 for Windows (64bit) from:
http://www.afterdawn.com/software/audio_video/media_players/itunes_64bit.cfm
Download iTunes 9.2 for Mac OS X from:
http://www.afterdawn.com/software/audio_video/media_management/itunes_for_macosx.cfm