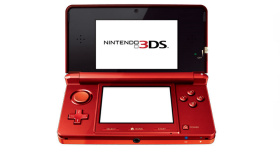 Siliconera
has posted a picture this week on how the game cart for the
Nintendo 3DS
looks, and unsurprisingly it looks very similar to a standard
DS
cart.
The new 2GB 3DS carts are the exact shape as a standard DS cart, but with a small tab in the corner.
Additionally, Nintendo CEO Satoru Iwata has hinted that the 3DS may be getting an e-reader app that works with the handheld's built-in Wi-Fi support. Using the wireless, the device may soon be able to "automatically acquire newspaper and magazine articles."
Posted in the Japanese
Nikkei
, Iwata also said the 3DS' wireless connection could stay active even when the handheld is asleep:
"It will seek out and automatically connect with wireless LAN spots, and download information,"
leaving the latest news or other info for gamers when they turn the system back on.
Please read our full post on the 3DS here:
E3 2010: Nintendo shows off 3DS, 'No More Glasses'