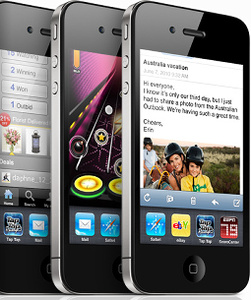 A
Morgan Stanley
analyst has made a startling prediction about Apple's smartphone.
Katy Huberty
has predicted that about 42 million iPhones will be sold by the end of 2010, and the number
could even reach 48 million
.
Apple
recently announced that it sold 600,000 iPhone 4 units (pre-orders) in the first 24 hours of availability.
Huberty believes that more than half of current iPhone owners will upgrade to the new iPhone 4. She points out that the original iPhone isn't eligible for an upgrade to iOS 4 and the iPhone 3G won't be able to use all of its features. Additionally, there are also tiered data plans from AT&T which can drop the overall cost of an iPhone by about $400.

Tripling its user base within 18 months would be a dramatic expansion for the iPhone, but it already has gotten rapid growth before.

Gartner Research reported in early 2009 that the iPhone had more than doubled market share in just one year from 5.4 percent to 10.8 percent. Apple now holds an estimated 28 percent of the smartphone market in the United States.