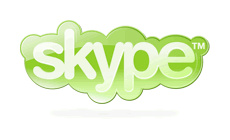 Skype
has announced this week that they will be offering free calling for a month in countries that have
World Cup
soccer teams.
The deals vary, but subscribers for the most part will have free minutes or unlimited minutes to call landlines in their countries for 30 days.
If you are American, the deal is better, with unlimited minutes to call mobile phones and landlines for the month.
The deal will likely only last until the end of the World Cup festivities, and you must have a Skype account.
Deals by country
:

60 minutes free calls to landlines in Algeria for a month
Unlimited free calls to landlines in Argentina for a month
Unlimited free calls to landlines in Australia for a month
400 minutes free calls to landlines in Brazil for a month
60 minutes free calls to landlines in Cameroon for a month
Unlimited free calls to landlines in Chile for a month
Unlimited free calls to landlines in Denmark for a month
Unlimited free calls to landlines in France for a month
Unlimited free calls to landlines in Germany for a month
60 minutes free calls to landlines in Ghana for a month
Unlimited free calls to landlines in Greece for a month
60 minutes free calls to landlines and mobiles in Honduras
Unlimited free calls to landlines in Italy for a month
60 minutes free calls to landlines and mobiles in Japan for a month
120 minutes free calls to landlines in Mexico for a month
Unlimited free calls to landlines in the Netherlands for a month
Unlimited free calls to landlines in New Zealand for a month
120 minutes free calls to landlines in Nigeria for a month
60 minutes free calls to landlines in Paraguay for a month
60 minutes free calls to landlines in Serbia for a month
Unlimited free calls to landlines in Portugal for a month
Unlimited free calls to landlines in Slovakia for a month
120 minutes free calls to landlines in Slovenia for a month
120 minutes free calls to landlines in South Africa for a month
Unlimited free calls to landlines in South Korea for a month
Unlimited free calls to landlines in Spain for a month
120 minutes free calls to landlines in Switzerland for a month
Unlimited free calls to landlines in the UK for a month
60 minutes free calls to landlines in Uruguay for a month
Unlimited free calls to landlines and mobiles in the USA for a month