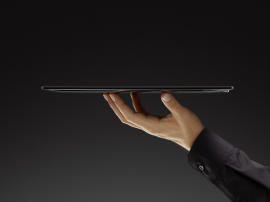 After being shown off first at
CES
and given an April release date,
Plastic Logic
has
once again delayed
their
QUE proReader
device, this time without a timetable given, further angering would-be owners who pre-ordered as early as March.
Additionally,
the company has cancelled all pre-orders
, a significant move that could mean there are a lot more problems under the surface than the company is letting on.
Differentiating the QUE from other e-reader is the fact it is aimed at the businessman demographic. The device will retail for $650 for the 4GB/Wi-Fi model and $800 for the 8GB/Wi-Fi/3G version. The Que features a large 10.7-inch screen, and has built-in support for
Microsoft
Office documents as well as PDFs.
Yes, you read that correctly, $800 for an e-reader that has only marginally better specs than rival devices that now sell for under $200.
Any consumer that pre-ordered the device sometime in the last few months received this letter this week:
"We've been working hard to bring the world's first product based on plastic electronics technology to market -- and have decided that delaying the device a bit longer will result in a better product for you. With that in mind, we need to let you know that since your unit will not ship on June 24 as planned, our automated ordering system has automatically cancelled your order.

We do hope, however, that you will stay on our list of customers interested in knowing about our progress and details of our upcoming product shipment. If you'd like to remain on our list, please click here.

We continue to be excited about the potential that our thin, light and shatter-proof ProReader will offer to business users everywhere, and hope we can count you among the first to experience this groundbreaking device."