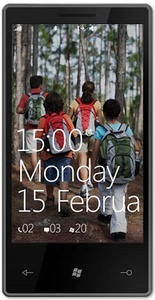 Microsoft
has set the lofty goal of selling 30 million
Windows 7 phones
over the next few years, and the company has apparently gotten off to a quick start, purchasing a handset for all of their 90,000 employees.
Mary Jo Foley, the Microsoft guru behind
ZDNet
,
tweeted the move today
, retweeting a Microsoft employee:
"90K down... just under 30 million to go: RT @simchabe: Woot. Every single microsoft employee will get a windows phone 7 #mgx"

Earlier in the day, senior product manager for Microsoft Greg Sullivan confirmed that
Dell, Asus, LG, HTC
and
Samsung
each have Windows Phone 7 devices in the pipeline.
Dell has already announced theirs, the extremely elegant
Lightning
, which uses Windows Phone 7, has a large 4.1-inch OLED screen, a 1GHz Snapdragon processor, a full QWERTY keypad, 512MB
RAM
, 1GB ROM, 8GB of internal storage for music, movies, etc, a 5MP camera with LED flash, and Adobe Flash,
DivX
and
Microsoft Silverlight
support.
Aiming to differentiate itself from the iPhone and Android phones, which use home screens of widgets and icons, Microsoft says it has tried to blend applications together for a more "integrated experience," allowing the OS and applications to "share information with the user in a natural and seamless fashion."