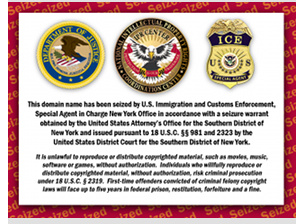 Recently Howard Berman, chairman of the US House of Representatives Foreign Affairs Committee, called a new customs enforcement operation to shut down P2P websites
"innovative,"
and said he is exploring ways to expand it.
He was referring to the seizure of nine domain names last month which kicked off "Operation In Our Sites," an initiative spearheaded by US Immigration & Customs Enforcement (ICE). A number of questions surround the seizures.
The action was
announced
at a press conference held jointly by ICE head John Morton and representatives of MPAA member studios.
Although the rhetoric about
"lost jobs and real hardships for ordinary working people"
from piracy has been plentiful, specifics about what crimes were committed by most of the sites have been non-existent. Instead there has been an effort by government officials like Morton and Berman to confuse the issue by conflating unauthorized file sharing with counterfeiting, which seems to be where ICE comes in.
ICE is the agency responsible for dealing with counterfeit goods entering the US from other countries. However their only connection with copyright enforcement is as head of the National Intellectual Property Rights Coordination Center (IPR Center), which coordinates anti-piracy efforts between a number of Federal law enforcement agencies.
According to a press release issued in conjunction with last month's press conference, the IPR Center
"The IPR Center is one of the U.S. government's key weapons in the fight against counterfeiting and piracy. The IPR Center offers assistance for both law enforcement and the private sector to address the growing transnational threat of counterfeit merchandise."
So what exactly does counterfeiting have to do with shutting down these websites? According to the limited details mentioned, nothing whatsoever.
That didn't stop Representative Berman from wondering out loud,
"how we can scale Operation "In Our Sites" to enterprises that facilitate the theft of music, books and other products prone to counterfeiting."
The ICE press release gives no real specifics about the alleged crimes committed through the websites. Instead it simply says,
"investigators downloaded various newly released movies from the Web sites and their affiliates, to identify those Web sites that were involved in the distribution of stolen content."
While this may make for a nice sound bite, unauthorized distribution of copyrighted content across the internet is not stealing, but rather copyright infringement. It also has nothing to do with counterfeit goods, leaving many wondering why ICE is even involved.
Judging from their careful wording it would appear some of the sites are accused of hosting the infringing content, and therefore distributing it, while others may simply have linked to it.
If that's the case you should expect to see accusations of inducing infringement for links to external content. In fact four
highly placed Justice Department officials
were quite successful with that very argument while arguing on behalf of the RIAA and MPAA in the Supreme Court in
the Grokster case
.
In addition to the domain names, assets from bank, PayPal, investment & advertising accounts were also seized. This is no doubt an attempt to cast them as commercial operations; a requirement for criminal infringement.