A web based alternative to the iPhone app store called OpenAppMkt opened today. Instead of native iOS apps, it offers a selection of HTML apps.
To use it you need to install their client, which you can do directly from the
OpenAppMkt website
.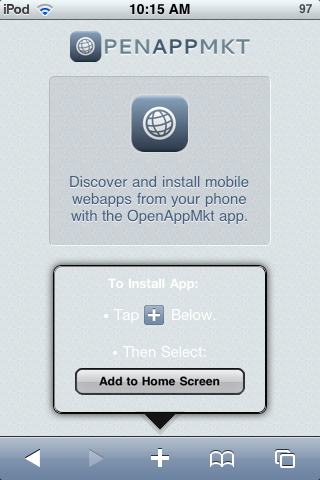 Once the client is installed you will have an icon on the iPhone's home screen which launches the app store. From there you can choose from a list of free and paid apps.
In some ways OpenAppMkt is a throwback to the early days of the iPhone.
Steve Jobs' original vision of the device didn't include any sort of native apps. Instead the plan was for all third party apps to be web based.
Since all the apps on OpenAppMkt are HTML based, there isn't as much variety as you find in the app stores for jailbroken iPhones. On the other hand, since you don't need to
jailbreak your phone
to install them there's a larger potential market.
Although non-iOS mobile devices aren't supported right now, there are plans to add support for more platforms in the future.