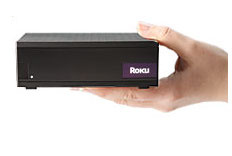 Roku
has dropped the prices of their set-top boxes this week, taking up to 30 percent off each of their available devices.
The Roku
SD
, originally priced at $80, is now $60.
Roku's midlevel
Roku HD
box (the most popular of the series) is now $70 after being $100.
The Roku HD-XR, which adds extended range via Wireless-N, is now $100 after being $130.
Roku was the original
Netflix
streaming
set-top, but the company has since updated the boxes to include Amazon VOD, UFC matches, and other channels.
You can buy the boxes here:
Roku Price Drop
You can read our review of the original Roku Digital Video Player here:
Review: The Roku Digital Video Player