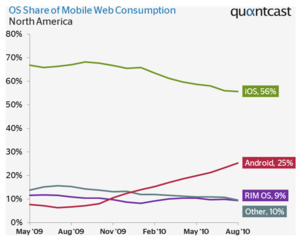 According to
Quantcast
,
Android
continues to close the gap with
Apple's iOS
in regards to overall web traffic in the United States.
Android has pushed to 25 percent of the overall market, with
Apple
remaining the leader at 56 percent.
At its peak in September 2009, Apple controlled about 68 percent of the market. During the same period, Android only had 8 percent.
RIM
, despite having a large share of the U.S. smartphone market, remained flat at 9 percent, thanks largely to a non-user-friendly Web browsing experience.
All other mobile OS' accounted for the remaining 10 percent of the web traffic.