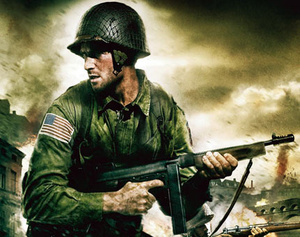 Medal of Honor
, the latest game in the long-standing franchise has been blocked from 49
GameStop
locations and all U.S. military bases worldwide.
The game was banned because in the game's multiplayer mode you can play as either the Americans (and allies) or as the Taliban insurgents, a fact that angered former vets and parents of vets.

"I don't see how shooting soldiers based on real Americans is entertainment while people are dying every day for this country," said Karen Meredith. Meredith's son, a former Army lieutenant, was killed during the Iraqi conflict in 2004.

"How can they say it's OK for someone to play the Taliban? You'll have people sitting at home, drinking beer, shooting at American soldiers, maybe missing, then starting over. Well, Ken didn't have a chance to start over," finished Meredith.

The decision in the U.S. is the second time an allied country has made a fuss over the title, with British Defense Secretary Liam Fox asking retailers to not stock the game.