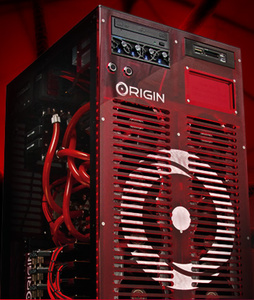 Origin
has launched the ultra-high-powered
Big O
gaming rig today, one that packs both a high-end PC and an
Xbox 360
into a single case.
The base model of the system costs a hefty $7669 but the specs are pretty intense.
Big-O, in its base configuration, has a liquid-cooled
Intel Core i7 930
overclocked to 4.0GHz on a liquid-cooled
ASUS
Rampage III Extreme Motherboard with 6GB of
Corsair
Dominator 1600Mhz
RAM
.
Additionally, it runs a liquid-cooled Nvidia GTX 480 in SLI, dual
OCZ
50GB SSD in RAID 0 with a 2TB HDD on the side. Theres also a 12x
Pioneer
Blu-ray
burner and a
Creative
Fatal1ty sound card. Let's not forget the liquid cooled Xbox 360 in there, also.
if you want to spend even bigger bucks, there is a $17,000 model for sale, as well, that features dual
Intel
Xeon X5680 CPUs Overclocked to 4.3GHz, 12GB of Corsair GT 2000Mhz RAM and Quad SLI
EVGA
GTX 480 FTW GPUs.
Check it here:
The Origin 'Big-O'