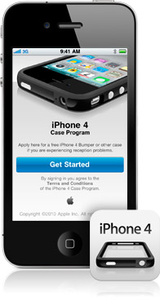 In late July, following the PR disaster that was "antennagate,"
Apple
announced it would be providing free cases to
iPhone 4
buyers that were experiencing trouble with dropped calls when the phone was held in their left hand.
Apple set aside $175 million for the program, sending all owners a free "bumper" case, and giving refunds to anyone who purchased a bumper since the phone's launch.
Today, Apple says they will be ending the program at the end of the month, because the antenna problem was actually "smaller" than original projections.
Despite the program ending, Apple did say it will continue to provide cases to the "small percentage of iPhone 4 users" that may still need one.
Says Apple's
announcement
:
"We now know that the iPhone 4 antenna attenuation issue is even smaller than we originally thought. A small percentage of iPhone 4 users need a case and we want to continue providing them a Bumper case for free."