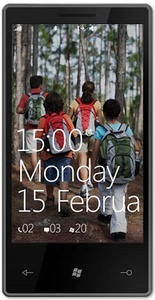 Verizon
has said this week that it will not sell
Windows Phone 7
smartphones until 2011, putting an early dent in
Microsoft's
plan to sell to a broad market.
Brenda Raney, a spokeswoman for the carrier, said they will support the operating system, but not this year. Despite the move, Raney says: "Our relationship with
Microsoft
is solid."
Verizon is the most popular carrier in the United States.
One analyst
believes that the announcement
is certainly not a positive, but also not the end of the world. Says Michael Gartenberg of the
Altimeter Group
:
"The more carriers and the more devices they can bring early on, the more chance they have for mainstream success, but not having Verizon will not make or break it. Look at the iPhone -- you don't need Verizon to be successful in the U.S. in mobile. On the other hand, it would be good for Microsoft to count Verizon in as a named partner early on."
Microsoft and Verizon had a recent collaboration, the
Kin
smartphone devices, but sales were extremely low and Verizon shipped back their excess inventory to Microsoft just two months after launch.
Globally, Microsoft has fallen to a 9.3 percent share of the smartphone market, trailing
iOS, Android, BlackBerry
and
Symbian
.