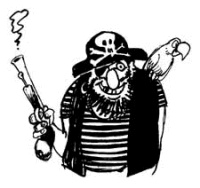 According to research from
The Guardian
, London-based law firm
ACS:Law
keeps about 40 percent of the copyright infringement fines paid as settlements by alleged pirates. Out of a typical letter demanding a £300 settlement from an Internet user accused of sharing files illegally, ACS:Law would expect to pocket about $120, while the rights holder of the content in question could expect between £60 and £90.
About 10 percent of the settlement fee is paid to the company that retrieved the IP address of the alleged copyright infringer. Internet service providers can expect as much as 15 percent of the fee to cover the costs of retrieving and sending subscribers personal information following a court order.

Germany-based record label, Zooland Records, which owns the copyright to Cascada's Evacuate the Dancefloor single (often the track alleged to have been shared illegally in ACS:law complaints), would not give a comment to The Guardian, with a spokesman saying the company was instructed not to talk about or ACS:Law by bosses.

Other reports have shown that ACS:Law can expect to pocket even more of the sums paid by those accused of downloading and sharing adult entertainment content illegally. Last week's data leak implicated 5,000 UK broadband users as having downloaded or uploaded pornography.

ACS:Law could be liable of up to $500,000 itself following a major data leak following a cyber-attack. The data included the personal details of thousands of broadband customers in the UK, as well as internal ACS:Law e-mails and other content.