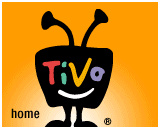 TiVo Inc.
has said that the U.S. Patent office has reaffirmed the validity of a TiVo patent at the center of a legal case that has been ongoing since 2004. TiVo shares rose 10 percent following the boost from the patent office in its legal battle with
Dish Network
and
EchoStar
.
"Today's decision further validates our (intellectual property) and brings us closer to ending EchoStar's ongoing infringement,"
the company
said
.
TiVo CEO
Tom Rogers
said in September that the legal battle between TiVo and EchoStar was likely to be resolved around February or March next year.
TiVo accused EchoStar of violating TiVo patents with its Dish Network system. The patent in question covered TiVo's
"Time Warp"
software that allows a viewer to record one TV program while watching another. To date, EchoStar has already paid $104 million in damages to TiVo.