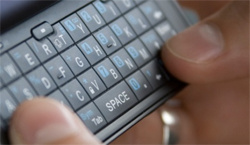 Filed in 2008 and granted by the U.S. Patent & Trademark Office this week,
Apple
has been awarded a patent for filtering text message content.
The patent is titled "Text-based communication control for personal communication device."
It is unclear whether the patent will ever find its way into an iOS product but it seems Apple's intention is to cut down on "offensive" texts sent from consumers using Apple devices.
Reads the patent
:
"One problem with text-based communications is that there is no way to monitor and control text communications to make them user appropriate. For example, users such as children may send or receive messages (intentionally or not) with parentally objectionable language."
Additionally, the patent proposes a way to encourage better grammar in texts. The filtering system can not really work without proper grammar, as many phone users write in shorthand or use words that may not necessarily be in a dictionary, like "LOL."
Apple's patent would disallow the use of non-dictionary words.