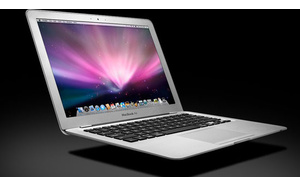 The latest rumor circulating this weekend is that the still unconfirmed 11.6-inch
MacBook Air
will be launched during
Apple's
October 20 event.
Sources
have leaked specs today, as well, saying most notably that the computer will use a new type of SSD for storage instead of the 1.8-inch enclosed drive used in current models.
The "SSD Card" will resemble a stick of
RAM
but will be almost impossible for users to replace. It will also take up much less space.
There are already a few notebooks, netbooks and embedded devices that use similar sticks, such as
SanDisk's pSSD
but this should be the first move for the SSD into ultraportables.
Rumored processor is an
Intel
Core i5.
Aesthetically, the new model will resemble the current 13.3 inch model but be "more wedge-shaped" including sharper edges.
Most importantly,
Apple
will "almost certainly" drop the price "significantly" under the MacBook Air's current $1500 price tag.