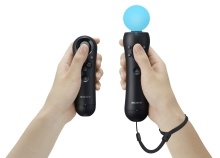 Sony
has reported today that they have shipped 1 million
Move
motion controllers in the Americas for the
PlayStation 3
in just 30 days since launch. Sony Europe reported 1.5 million sales for the EU during the same time.
President Jack Tretton said the Move system is already out of stock in most retail stores and the company expects that strong Move sales will lead to an increase in console and software sales during the holiday season.
"Sales are brisk,"
concluded Tretton, via the
WSJ
.
The Move, when teamed with the PlayStation Eye camera, gives gamers a chance to interact directly with their games using hand motions and other physical movements.
Sony sells the controller by itself for $49 or bundled with a game and the Eye for $99.
Microsoft
will begin selling their rival
Kinect
system on November 4th.