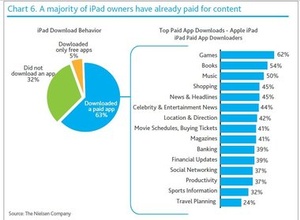 A new
Nielsen
study, dubbed "The Increasingly Connected Consumer: Connected Devices," has shown that nearly one-third of all
iPad
owners have yet to download an app for their device.
32 percent of iPad owners remain app-less despite a number of very popular apps being created specifically for the tablet.
63 percent of device owners have downloaded an app and paid for at least one while the other five percent have download apps, but only free ones.
The most popular paid apps were games at 62 percent, followed by books at 54 percent and music at 50 percent.
Nearly 100 percent of iPad owners regularly check the news, while 39 percent use it to read books. Another 33 percent use the device to watch movies or TV shows.
The survey
was administered to 5000 "connected device owners" including iPad, Kindle, iPod Touch and other device owners.