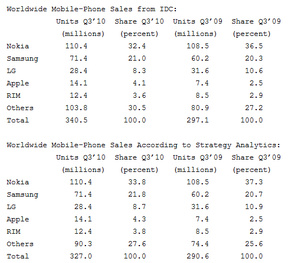 For the first time ever,
Apple
has moved into the world's top five mobile-phone vendors, placing fourth in the Q3 2010.
The numbers come via
IDC
and
Strategy Analytics
, who both agreed that if Apple introduces a
CDMA
version of the
iPhone
they may be able to jump into third or even second place.
"The entrance of Apple to the top five underscores the increased importance of smartphones to the overall market,"
notes Kevin Restivo,
an IDC analyst
.
"Vendors that aren't developing a strong portfolio of smartphones will be challenged to grow and retain market share in the future."
Nokia
, (according to IDC) which has held the top spot for every quarter since 1998, stayed in first but share fell to 32.4 percent, down from 36.5 percent year-over-year.
Samsung
rose to 21 percent to remain in second, while
LG
saw its share drop to 8.3 percent, good for third.
RIM
, maker of the
BlackBerry
smartphones, fell to fifth while
Sony Ericsson
fell off the list for the first time since 2004.