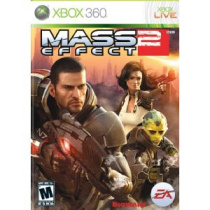 Mass Effect 2 has won the
"Ultimate game of the year"
award at the 28th Golden Joystick awards. It also picked up the award for the
"RPG of the year"
.
The winners are voted by UK gamers. The Guinness Book of Records lists the Golden Joystick awards as the most popular video game awards show. For games to qualify for awards this year, they had to have been released between May 2009 and May 2010, with just one exception: the
"One to watch"
award.
The first Golden Joystick awards in 1982 saw Jatpac winning the first
"Ultimate game of the year"
award. Since then, other titles to receive the award include
Fallout 3
, Grand Theft Auto and
Call of Duty
4: Modern Warfare.
Awards are handed out for 16 different categories...
The show
was held at the
Park Plaza Westminster Bridge hotel and hosted by US comedian
Rich Hall
. Over 1.5 million votes were cast.